Parkwood Apartments at Indio (55+)
81777 Avenue 48, Indio, California 92201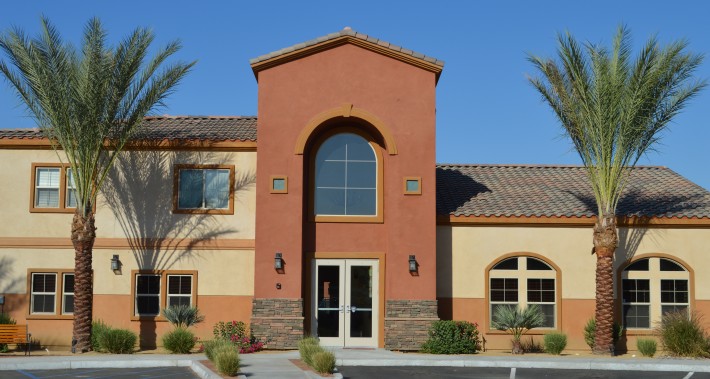 Welcome to Parkwood Apartment Homes
Featuring Active Adult Living for 55+ in Indio, California
Parkwood Active Adult Apartment Homes offers a beautiful community you will be proud of, located just a few minutes south from the convenience of Highway 111.
Enjoy all the latest designer amenities in our apartment homes and a carefree lifestyle. Why worry about home maintenance when you can enjoy yourself at Parkwood? Parkwood Active Adult Apartment Homes were designed around a fabulous collection of amenities including FiOS Internet/TV, a private clubhouse with a library/computer lounge, community room with kitchen and lounge, and fitness center. Our sprawling grounds include a sparkling swimming pool and spa, covered picnic and BBQ area, and a private nature park with designated pet area and a resident vegetable garden.
Whether you are taking a walk or enjoying our private park with your pet, relaxing with friends by the pool or planning a fun outing, Parkwood Active Adult Apartment Homes is the place to be. Enjoy mountain views, our warm and welcoming environment where there's always something to do and great neighbors to share your life with!
| | | | |
| --- | --- | --- | --- |
| Apartment Size: | 730 Sq. ft | Rent: | $999 - $1,069 |
| Bedrooms: | 1 | Bathrooms: | 1 |
| Private Balcony: | YES | Storage Closet: | YES |
| Refrigerator: | YES | Gas Stove: | YES |
| Microwave: | YES | Garbage Disposal: | YES |
| Dishwasher: | YES | Walk-in Closet: | YES |
| Central Heat & A/C: | YES | Individual Water Heater: | YES |
| Laundry Hookups: | NO | Pets Allowed: | YES |
| Security Deposit: | $300 | Pet Deposit: | $200 + $100 One-Time Fee |
| Application Fee: | $40 | Pet Rent (monthly): | $25 |
* 55+

View Floor Plan
| | | | |
| --- | --- | --- | --- |
| Apartment Size: | 750 Sq. ft | Rent: | $1,019 - $1,089 |
| Bedrooms: | 1 | Bathrooms: | 1 |
| Private Balcony: | YES | Storage Closet: | YES |
| Refrigerator: | YES | Gas Stove: | YES |
| Microwave: | YES | Garbage Disposal: | YES |
| Dishwasher: | YES | Walk-in Closet: | YES |
| Central Heat & A/C: | YES | Individual Water Heater: | YES |
| Laundry Hookups: | NO | Pets Allowed: | YES |
| Security Deposit: | $300 | Pet Deposit: | $200 + $100 One-Time Fee |
| Application Fee: | $40 | Pet Rent (monthly): | $25 |
* 55+

View Floor Plan
| | | | |
| --- | --- | --- | --- |
| Apartment Size: | 910 Sq. ft | Rent: | $1,229 - $1,299 |
| Bedrooms: | 2 | Bathrooms: | 1 |
| Private Balcony: | YES | Storage Closet: | YES |
| Refrigerator: | YES | Gas Stove: | YES |
| Microwave: | YES | Garbage Disposal: | YES |
| Dishwasher: | YES | Walk-in Closet: | YES |
| Central Heat & A/C: | YES | Individual Water Heater: | YES |
| Laundry Hookups: | NO | Pets Allowed: | YES |
| Security Deposit: | $400 | Pet Deposit: | $200 + $100 One-Time Fee |
| Application Fee: | $40 | Pet Rent (monthly): | $25 |
* 55+

View Floor Plan
| | | | |
| --- | --- | --- | --- |
| Year Built: | 2014 | Lot Size: | 7.50 Acres |
| Total Units: | 125 | Buildings / Floors: | 8 / 2 |
| Storage Units: | 34 | Elevators: | NO |
| Carports: | 126 | Garages: | N/A |
| Open Parking Spaces: | 25 | Handicap Spaces: | 3 |
| Laundry Facility: | YES | Pool and Spa: | YES |
| Playground: | NO | Recreational Room: | YES |
| Library: | YES | Gym: | YES |
| Resident Kitchen: | YES | Gated Community: | YES |
| Resident Garden: | YES | Pet Friendly: | YES |
| Activity Program: | YES | On-Site Management: | YES |
| Weekly Shuttle: | NO | Sewer: | INCLUDED |
| Water: | INCLUDED | Trash: | INCLUDED |
Within 1/2 mile of Hjorth Park and 1 mile of Dr. Carreon Park
Within 2 miles of South Jackson Park and Indio Community Park
Within 2 Miles of Indio Plaza and Town & Country South Shopping Centers
Within 4 Miles of Indio Towne Center
Within 2 miles of Riverside County Fairgrounds
Within 3 miles of Eldorado Polo Club
Within 5 miles of Fantasy Springs Casino & Indio Municipal Golf Course
Within 2 miles of Indio Senior Center & Indio Community Center
Within 3 miles of Indio Performing Arts Center
Within 2.5 miles of College of the Desert - Indio Campus
Within 3 miles of the Indio Library
Within 1 mile of John F. Kennedy Memorial Hospital
Convenient to SunBus service (0.75 mi. walk)
Easy access to Hwy 111 (1.5 mi) and I-10 (3.0 mi)
Within 10 miles of Palm Desert and 25 miles of Palm Springs
Community Pictures
Apartment Unit/Home Pictures
Floorplan Images
Floor Plan 1A
Floor Plan 1B
Floor Plan 2
Site Plan