Victoria Woods Apartments at Sandy (55+)
617 East 9000 South, Sandy, Utah 84070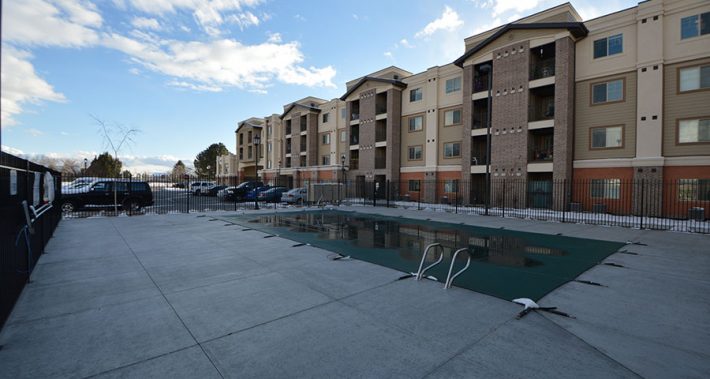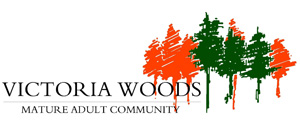 Come Home to Victoria Woods
Featuring Active Adult Living for 55+
NOW OPEN!
We are excited to announce our newest, and our first community in Sandy, Utah; Victoria Woods Apartments, featuring active adult living for 55+!
Adding to our rich history of Victoria Woods senior communities, our newest apartments in Sandy may be our finest yet. We have embarked on a mission to create a beautiful 4-story community that captures the essence of the lifestyle in Sandy while providing the affordable housing so desperately needed.
These apartment homes incorporate the latest in environmentally conscious design elements, with an attention to sustainable practices, all while featuring the latest in designer features. Victoria Woods Active Adult Apartment Homes provides a social program and a fabulous collection of amenities including a private clubhouse, community kitchen, exercise room, computer lounge, wellness room and library. The spacious grounds offer a resort-style pool and a resident victory garden.
Come join us and enjoy mountain views, a warm and welcoming community and a refreshing new place to call home.
– – – – – –
| | | | |
| --- | --- | --- | --- |
| Apartment Size: | 658 Sq. ft | Rent: | $436 - $1,350* |
| Bedrooms: | 1 | Bathrooms: | 1 |
| Private Balcony: | YES | Storage Closet: | YES |
| Refrigerator: | YES | Gas Stove: | YES |
| Microwave: | YES | Garbage Disposal: | YES |
| Dishwasher: | YES | Walk-in Closet: | VARIES |
| Central Heat & A/C: | YES | Individual Water Heater: | YES |
| Laundry Hookups: | YES | Pets Allowed: | YES |
| Security Deposit: | $800 | Pet Deposit: | $300 + $100 One-Time Fee |
| Application Fee: | $25 | Pet Rent (monthly): | $25 |
* MAY BE INCOME RESTRICTED (55+)

View Floor Plan
| | | | |
| --- | --- | --- | --- |
| Apartment Size: | 650 Sq. ft | Rent: | $436 - $1,350* |
| Bedrooms: | 1 | Bathrooms: | 1 |
| Private Balcony: | YES | Storage Closet: | YES |
| Refrigerator: | YES | Gas Stove: | YES |
| Microwave: | YES | Garbage Disposal: | YES |
| Dishwasher: | YES | Walk-in Closet: | VARIES |
| Central Heat & A/C: | YES | Individual Water Heater: | YES |
| Laundry Hookups: | YES | Pets Allowed: | YES |
| Security Deposit: | $800 | Pet Deposit: | $300 + $100 One-Time Fee |
| Application Fee: | $25 | Pet Rent (monthly): | $25 |
* MAY BE INCOME RESTRICTED (55+)

Fully Accessible Type "A" Unit

View Floor Plan
| | | | |
| --- | --- | --- | --- |
| Apartment Size: | 785 Sq. ft | Rent: | $1,114 - $1,500* |
| Bedrooms: | 2 | Bathrooms: | 1 |
| Private Balcony: | YES | Storage Closet: | NO |
| Refrigerator: | YES | Gas Stove: | YES |
| Microwave: | YES | Garbage Disposal: | YES |
| Dishwasher: | YES | Walk-in Closet: | VARIES |
| Central Heat & A/C: | YES | Individual Water Heater: | YES |
| Laundry Hookups: | YES | Pets Allowed: | YES |
| Security Deposit: | $1,200 | Pet Deposit: | $300 + $100 One-Time Fee |
| Application Fee: | $25 | Pet Rent (monthly): | $25 |
* MAY BE INCOME RESTRICTED (55+)

View Floor Plan
| | | | |
| --- | --- | --- | --- |
| Apartment Size: | 787 Sq. ft | Rent: | $1,113 - $1,500 |
| Bedrooms: | 2 | Bathrooms: | 1 |
| Private Balcony: | YES | Storage Closet: | YES |
| Refrigerator: | YES | Gas Stove: | YES |
| Microwave: | YES | Garbage Disposal: | YES |
| Dishwasher: | YES | Walk-in Closet: | VARIES |
| Central Heat & A/C: | YES | Individual Water Heater: | YES |
| Laundry Hookups: | YES | Pets Allowed: | YES |
| Security Deposit: | $1,200 | Pet Deposit: | $300 + $100 One-Time Fee |
| Application Fee: | $25 | Pet Rent (monthly): | $25 |
* MAY BE INCOME RESTRICTED (55+)

Fully Accessible Type "A" Unit

View Floor Plan
| | | | |
| --- | --- | --- | --- |
| Apartment Size: | 875 Sq. ft | Rent: | $1,550 |
| Bedrooms: | 2 | Bathrooms: | 2 |
| Private Balcony: | YES | Storage Closet: | YES |
| Refrigerator: | YES | Gas Stove: | YES |
| Microwave: | YES | Garbage Disposal: | YES |
| Dishwasher: | YES | Walk-in Closet: | VARIES |
| Central Heat & A/C: | YES | Individual Water Heater: | YES |
| Laundry Hookups: | YES | Pets Allowed: | YES |
| Security Deposit: | $1,200 | Pet Deposit: | $300 + $100 One-Time Fee |
| Application Fee: | $25 | Pet Rent (monthly): | $25 |
| | | | |
| --- | --- | --- | --- |
| Apartment Size: | 870 Sq. ft | Rent: | $1,550 |
| Bedrooms: | 2 | Bathrooms: | 2 |
| Private Balcony: | YES | Storage Closet: | NO |
| Refrigerator: | YES | Gas Stove: | YES |
| Microwave: | YES | Garbage Disposal: | YES |
| Dishwasher: | YES | Walk-in Closet: | VARIES |
| Central Heat & A/C: | YES | Individual Water Heater: | YES |
| Laundry Hookups: | YES | Pets Allowed: | YES |
| Security Deposit: | $1,200 | Pet Deposit: | $300 + $100 One-Time Fee |
| Application Fee: | $25 | Pet Rent (monthly): | $25 |
Fully Accessible Type "A" Unit

View Floor Plan
| | | | |
| --- | --- | --- | --- |
| Year Built: | 2016 | Lot Size: | 2.88 Acres |
| Total Units: | 100 | Buildings / Floors: | 1 / 4 |
| Storage Units: | N/A | Elevators: | YES |
| Carports: | 102 | Garages: | N/A |
| Open Parking Spaces: | 26 | Handicap Spaces: | 4 |
| Laundry Facility: | YES | Pool and Spa: | POOL ONLY |
| Playground: | NO | Recreational Room: | YES |
| Library: | YES | Gym: | YES |
| Wellness Room: | YES | Computer Room: | YES |
| Resident Kitchen: | YES | Gated Community: | NO |
| Resident Garden: | YES | Pet Friendly: | YES |
| Activity Program: | YES | On-Site Management: | YES |
| Weekly Shuttle: | NO | Sewer: | INCLUDED |
| Water: | INCLUDED | Trash: | INCLUDED |
Within 1 mile of Bicentennial Park, Quarry Bend Park
Within 2 miles of Lone Peak Park, Flat Iron Mesa Park, Granite Park
Within 1 mile of Sandy Village and 2 miles of Jordan Commons
Within 3 miles of South Towne Center and 4 miles of Fashion Place Mall
Within 2 miles of South Towne Expo Center, Rio Tinto Stadium, Sandy Amphitheater
Within 1.5 miles of Sandy Senior Center
Within 3 miles of Salt Lake Community College (Miller Campus)
Within 3 miles of University of Utah - Sandy Site
Within 2 miles of Alta View Hospital, or 5 miles to Jordan Valley Medical Center
Within 1 mile of TRAX stations for Route 701 – Blue Line (Historic Sandy station)
Within 4 miles of TRAX station for Route 750 – Frontrunner (South Jordan station)
Easy access to S. State Street (1.0 mi) and I-15 (1.5 mi)
Within 15 miles of ski resorts (Snowbird, Alta)
Within 15 miles of downtown Salt Lake City and within 35 miles of Provo
Community Pictures
Apartment Unit/Home Pictures
Floorplan Images
Site Plan